Who Is Malala Yousafzai?
Malala Yousafzai is a Pakistani girl. Yousafzai is the youngest Nobel Peace Prize winner. Malala was born on 12 July 1997. In 2021, Malala will be 24 years old. Malala loved school. 
Malala graduated from Oxford University. Her birthplace is the Swat Valley region of Pakistan. But she was grown up in Mingora. She works for girls' education in Pakistan. She is also known as human rights activist. Her primary mission is to support the children to attend school. 

Her advocacy movement spread on an international level. She got an opportunity to give a speech to the United Nations and published her first book, I Am Malala, in 2013. 
Malala Yousafzai family
Malala's father is Mr. Ziauddin Yousafzai, and her mother is Mrs. Tor Pekai Yousafzai. Malala's father, Ziauddin, was a teacher. Ziauddin ran a school for girls. She has two younger brothers. Her family followed the Islam religion. So she is an Islamic girl.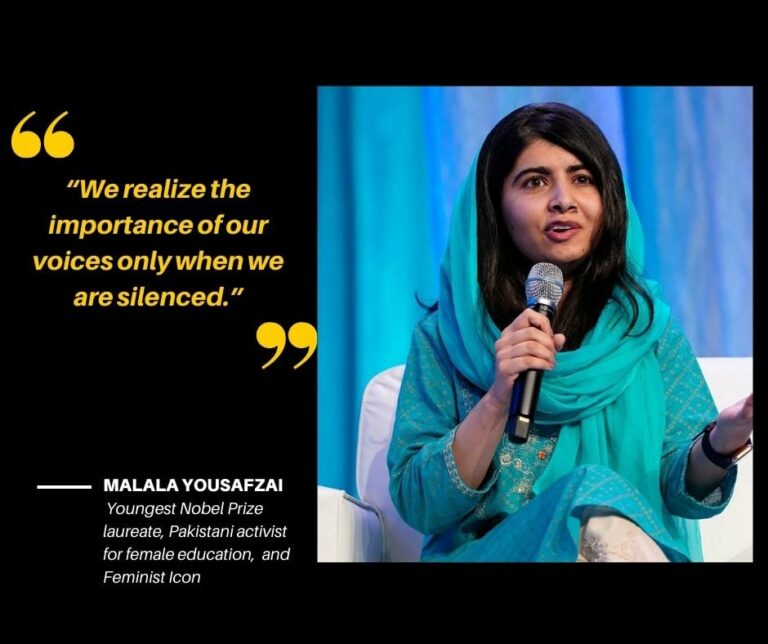 How Malala became Education Activist
In 2007, the Taliban started controlling Pakistani society. They banned girls from attending schools. Cultural activities like dancing and celebrating were forbidden, and television was prohibited.
In 2008, the Taliban destroyed more than 400 schools. Malala was aware of her right to education. So she stood up against the Taliban. With her father, Malala started to criticize the Taliban's tactics. She has raised questions on National TV of Pakistan, How the Taliban can remove the girl's fundamental educational rights.
In 2009, Malala began to blog anonymously on the Urdu language site of the BBC. In the blog, she expressed her desire to continue her school. Also, she wrote about the difficult life in the Swat Valley under Taliban rule. The blog was published under the name of "Gul Makai," Malala described being forced to stay at home. 
When Malala wrote her first BBC diary entry, she was 11 years old. Her first blog heading was "I am afraid," In this blog, she described her fear of war in her beautiful place and about being afraid to go to school because of the Taliban.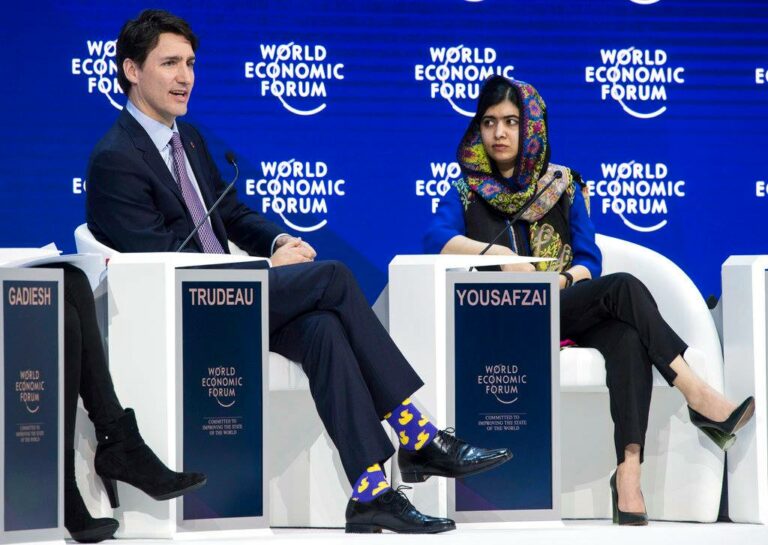 The war of Pakistan with the Taliban was fast approaching. Malala became an internally displaced person on 2009 May 5. It means she cannot cross her country's border to find safety. So after returning to her place, Malala again continued her public campaign for girls to go to school through the media. Malala and her father were known around Pakistan for their purpose of giving Pakistani girls access to free quality education.

Malala reorganization at the national and the international level
In 2011 Malala's struggle resulted in their International Children's Peace Prize nomination. Also, she was awarded Pakistan's National Youth Peace Prize in the same year, 2011. But, not all Pakistani people supported and welcomed her movement to bring change to her beautiful place and country.
Shot by the Taliban
On 9 October 2012, at the age of 15, Malala Yousafzai was shot by the Taliban. She was boarding a bus and returning home from school. The bus was hauled by two members of the Taliban who asked who Malala was. They shot her in the head. Malala was seriously injured.
One bullet entered and exited from another side of her head. She was brought to Pakistani Hospital. After four days, she was airlifted to an intensive care unit in England.
Malala was taken out of a medically induced coma in the UK. She required multiple surgeries. She would also need the repair of a facial nerve to fix the disabled part of the left side of her face. Luckily, her central brain was not damaged. After a long treatment and therapy, she began schooling again in Birmingham in 2013.
Speech at the UN House
After her incredible recovery and return to school, she got in a global outpouring. On her 16th birthday on July 12, 2013, she visited New York and spoke at the United Nations.
Following the attack, Yousafzai said that "the terrorists thought that they would change our aims and stop our ambitions, but nothing changed in my life except this: weakness, fear, and hopelessness died. Strength, power, and courage were born."Yousafzai also urged action against illiteracy, poverty, and terrorism.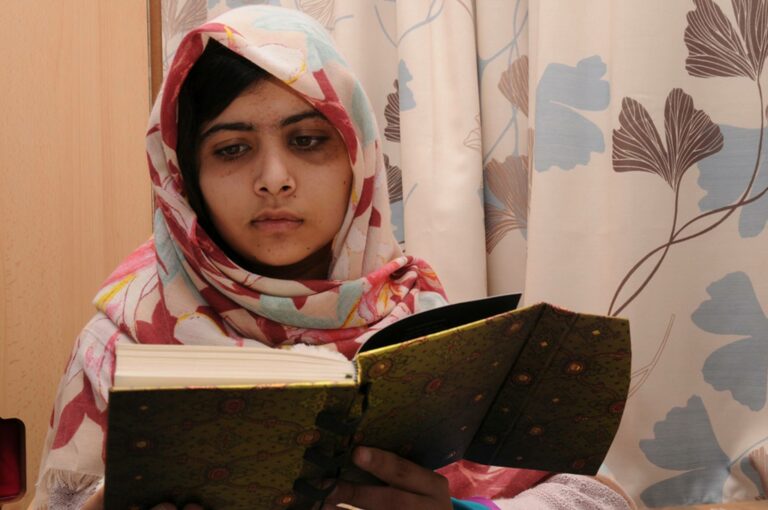 Malala Day
At Malala Yousafzai's speech at the United Nations in 2013, Secretary-General Ban Ki-moon distinct July 12th – Malala Yousafzai's birthday –as 'Malala Day' in honor of the young leader's activist to ensure education for all children.
Malala's Books
'I Am Malala'
In 2013, Malala Yousafzai published her autobiography "I Am Malala: The Girl Who Stood Up for Education and Was Shot by the Taliban." This book became so popular and was praised across the world. In acknowledgment of her work in this book, on October 10, 2013, the European Parliament awarded her one of the prestigious "Sakharov Prizes" for Freedom of Thought.
'Malala's Magic Pencil'
In October 2017, Malala published 'Malala's Magic Pencil,' a children's picture book about her life. This book introduces her childhood in Pakistan. The book expresses how a young boy used his magic pencil to help people. In the book, the magic pencil advises readers on how to make the world a better place.
'We Are Displaced'
In 2018, Malala published another book named "We Are Displaced." This book describes the Journey and Stories of Refugee Girls Around the World. Also, this book explains the story of Malala Yousafzai and the stories of the girls she met during her journey to refugee camps in Colombia, Guatemala, Syria, and Yemen.
Malala Yousafzai's The Malala Fund
Malala co-founded an organization, 'The Malala Fund,' with her father. Malala Fund is a very active international, non-profit organization.  It advocates for girls' education. The Malala Fund was co-founded by Malala and her father, Ziauddin Yousafzai.
The organization aims to ensure free, safe, and quality education for girls worldwide. The Malala Fund is working very hard to empower girls through education in the following countries: Afghanistan, Brazil, Ethiopia, India, Lebanon, Nigeria, Pakistan, and Turkey.
In 2014, through the organization, Malala traveled to Jordan and met the refugees from Syria. She also traveled to Kenya and met young female students. On her 17th birthday, Malala visited northern Nigeria. In Nigeria, Malala raised their voice and spoke to support the girls kidnapped earlier that year by Boko Haram. Boko Haram is a terrorist group like the Taliban, which tried to stop girls from attending school.
The Malala Fund has become a strong organization that supports girls through education, empowers them to achieve their goals, and empowers them to become confident and strong leaders in their own countries. The Malala Fund is funding education projects in six various countries.
It is working very closely with international leaders. Also, the Malala Fund joins the local partners and invests at the grassroots level for girls' education and empowerment. It advocates globally for quality educational opportunities for all girls.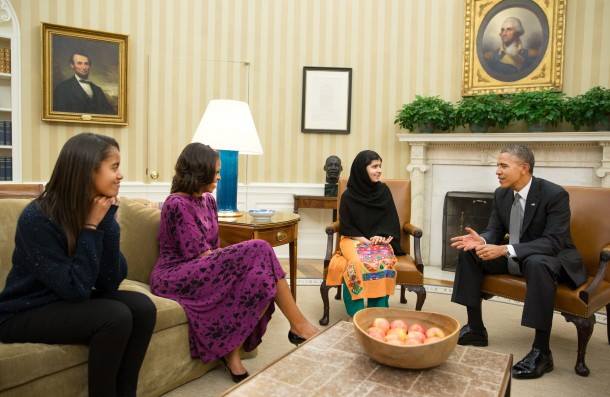 The youngest person to award Nobel Peace Prize
Malala was named a Nobel Peace Prize winner, in October 2014, at 17. She became the youngest person to award this grand prize. While accepting the award, Malala firmly stated, "The award is not just for me. It is for those helpless and forgotten children who want to attend school. It is for those afraid children who want peace. And it is for those children who want change."
Malala at present
Currently, Malala is staying in Birmingham, England. She is a very active advocate of education as a fundamental right. Through her voice and the Malala Fund, Malala Yousafzai remains a dedicated and committed advocate for the power of education and those girls who want to become agents of change in their communities.
The former prime minister of Pakistan, Mr. Shahid Khaqan Abbasi, said she is "the most prominent citizen of Pakistan." Her nation is proud of her.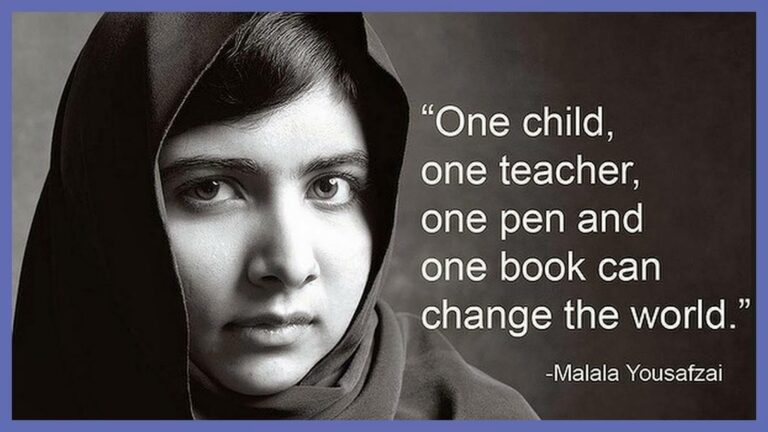 Malaya's great quotes
During her speech she has said so many great quotes.
Some of her great quotes are:
"One child, one teacher, one book, one pen can change the world" was so much famous. This is such a great quote we should think of it to make a change in the education of our country.
"The extremists were, and they are, afraid of books and pens. The power of education frightens them. They are afraid of women… Let us pick up our books and pens. They are our most powerful weapons."
"We realize the importance of our voices only when we are silenced."
"I think realizing that you're not alone, that you are standing with millions of your sisters around the world is vital."
How One Girl Stood Up for Education and Changed the World, remind us of the power of words.
"When the whole world is silent, even one voice becomes powerful."
References