Xue Mo Childhood
Xue Mo, formerly Chen Kaihong, was born in a remote village in the Liangzhou district of Gansu province. He grew up surrounded by sand, drought, and poverty and by the love and kindness of his family.
His parents led a peasant farmer's life and could not read, yet Xue Mo dreamed of being a writer from a young age. His village had few books, but relatives and guests often visited and told stories. He would memorize and retell these tales, much to his father's delight as a boy.
As a boy, Xue Mo also idolized the Monkey King from the classic tale The Journey to the West and the Monkey's quest to follow his master to bring Buddhist scriptures from India to China. He wished he could conjure treasures as his hero did – the glory he most desired was a book to read.
There were few books in his village, and he only had access to textbooks at school. His parents encouraged his dream of being a writer by giving him his first book, a comic book battle Steed Gallop.
One further inspiration in Xue Mo's early life was his uncle. He practiced numerology and divination and, following local beliefs, advised Xue Mo's father to place a lamp at the top of a tall pole in the center of the family courtyard one day. He said that each day, as night visited the family, they should light the lamp. If they did so, someone in the family would significantly contribute to the world.
Accepting his brother's advice, Xue Mo's father went to the river, cut down a small tree, erected it in the yard, and placed a lamp on top. From the first night the light was turned on, Xue Mo saw hope. Although their electricity bill was very high, indeed the most significant expense the family faced, the light in the courtyard was always turned on at night. Its faint glow penetrated the darkness as Xue Mo grew from childhood into youth and youth into adulthood.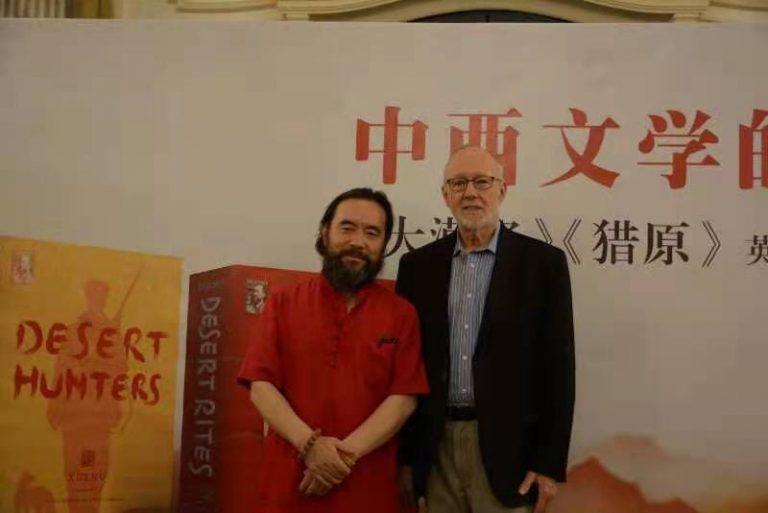 Xue Mo's uncle also taught the young boy a saying – "Just as nature is, at its heart, dynamic, a gentleman must constantly strive." He encouraged his nephew to remember the expression, work towards self-improvement, and be socially responsible. Xue Mo decided to take his uncle's advice.
At 15, after writing an essay titled "A Letter to Uncle Scientist," Xue Mo was selected to study at a county school, Wuwei No.1 Middle School. The article later became an example studied at many schools. The school allowed Xue Mo to read many books, including translated classics from overseas. He developed a daily practice of reading and keeping a diary and took up Kung Fu to keep fit.
With no teacher available to guide the young scholar in his literary ambitions, he adopted the Russian author Leo Tolstoy as a role model. When he read, Xue Mo imagined himself speaking freely with Tolstoy and, in so doing, developed his inner voice.
After graduating from Wuwei No.1 Middle School, Xue Mo continued his education at Wuwei Normal Secondary School and, upon graduating, was assigned to teach at a local middle school. He was earning a salary for the first time and could extend his reading by buying books and literary magazines. Never losing sight of his ambitions, the young man wrote in his spare time and built a body of work over the next six years.
When Xue Mo was 25, his story "Clouds And Mist Rose Where The Sun Set" was published in Feitian magazine, and his reputation as a young writer from Gansu province began to form. This new recognition took some processing, and he struggled to write for a while.
As a means of coping, Xue Mo turned to the philosophies of Mahamudra. He adopted related practices that helped him overcome his anxiety and restore his confidence in his writing. The stories he discovered during this journey inspired him to write his subsequent two published works, the magical realist novel "The Holy Monk and Spirit Woman" and the Mahamudra practice manual "Beyond Sunyata —The Essence of Mahamudra."
From this point forward, Xue Mo wrote extensively in various literary forms, including novels, poems, and philosophical essays. His work investigated the themes of love, freedom, life, death, and the human relationship with nature.
It has enjoyed extensive Chinese media coverage, received critical acclaim, and is regularly identified as seminal literature from China's western provinces. Xue Mo's writing is credited with presenting an alternative, spiritual lifestyle for people today.
Xue Mo's best-known work is his Desert Trilogy. He dedicated 12 years to writing "Desert Rites," the first novel in the series. It depicts the life of a typical rural family in China's western provinces during the second half of the twentieth century. After it was published in 2000, Xue Mo became famous overnight. Following the critical and commercial success of "Desert Rites," Xue Mo wrote "Desert Hunters," a multi-character fable set around a watering hole known as the 'Pig's Belly Well.'
The novel examines the conflict between humans and nature in their struggle for survival. The final book in the trilogy, "White Tiger Pass," explores the cultural psychology of people living in western China and focuses on the lives of three women, Lan Lan, Ying, and Yue – characters also encountered in his short story collection, "Selected Stories by Xue Mo."
As an influential writer in the Chinese literary circle, Xue Mo has been shortlisted for the Mao Dun Literature Award three times, with eight full-length novels, including Desert Rites, Curses of Western Xia, The Wildfox Ridge, and The Legend of Heroes From Liangzhou.
He also has written the poetry collection "The Fox Worshiping the Moon" and artistic works including "The Mahasiddhas' Secrets (Ⅰ–Ⅷ)," "The Buddha's Wisdom (Ⅰ–Ⅲ)," "The Mahamudra of Light Series (totaling ten pieces)," "Xue Mo's Philosophy School of Mind Series," "Practical Guide to Cultural Transmission," "Conspectus of Xue Mo's Philosophy School of Mind." And there are three pieces of his non-fictional works, including"One Man's West," "The Offspring of the Huns," "Don Quixote in North America," and " Mountain God's Arrow Piles."
An epic masterpiece Suosalang with 100,000 lines and millions of words written by him, has been published.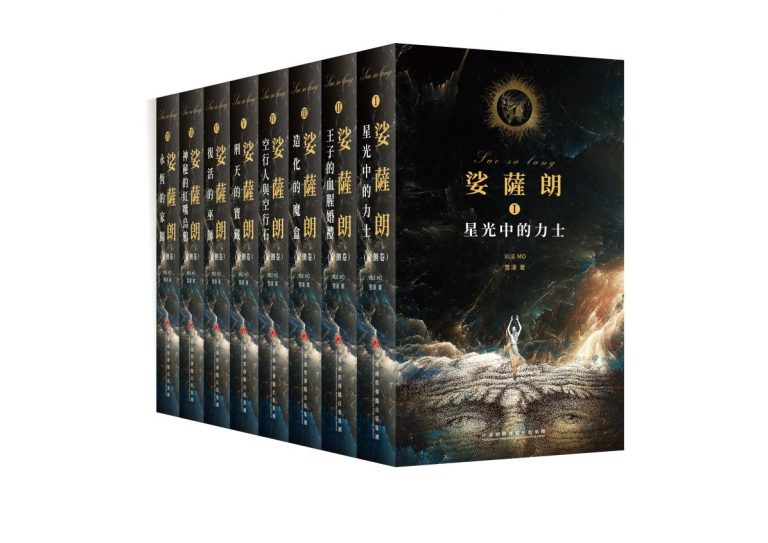 Suosalang is a long epic poem composed by Xuemo. With a length of nearly 100,000 lines totaling over 2 million Chinese characters, Suosalang recounts the journey of a young goddess trying to save her dying mother and dying planet.
Destruction is slowly approaching as the planet is lost in overindulgence and overdevelopment. Five champions tasked to save their homeworld chose to be reincarnated on a distant planet known as Earth. In human forms, they eventually lost themselves and forgot their mission. A brave young, intelligent goddess followed the five champions to Earth to save her mother and home planet.
Incarnated in a human form, she set out to awaken the champions from their earthly amnesia. During this process, she attained self-completion and became the brilliant light that led others to enlightenment …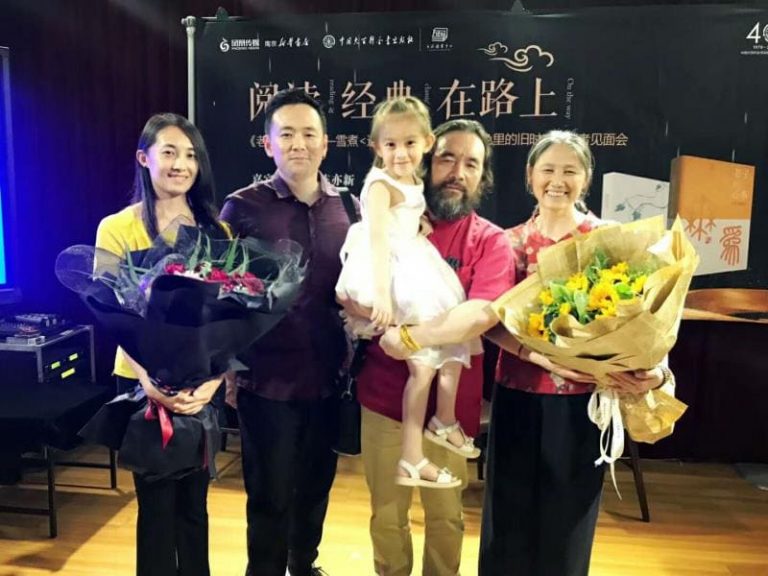 The journey of the goddess and the five champions was filled with challenges and hardship. They went through the tests of romantic entanglements, life and death, fame and fortune, demons, and other evil forces, but eventually, they found the eternity that they were determined to find.
It is known that, despite having a long and vibrant literary history, the Han Chinese (the ethnic group constituting the majority of the Chinese population) do not seem to have composed any epics like many other cultures did at the dawn of their histories—like Homer's Iliad and Odyssey, the Sumerian epic Gilgamesh, or the Tibetan epic King Gesar—or at some later time—like Dante's Devine Comedy. Hence, Suosalang is sometimes praised as the first epic of the Han Chinese people.
Suosalang touches on such enduring themes as the choices between good and evil, love and faith, excellence and mediocrity, war, peace, ego and universal love, and many more.
Through the characters' journey, you may see the wisdom that may guide you through tough choices like these in your own life. Suosalang is a masterpiece that you might not want to miss.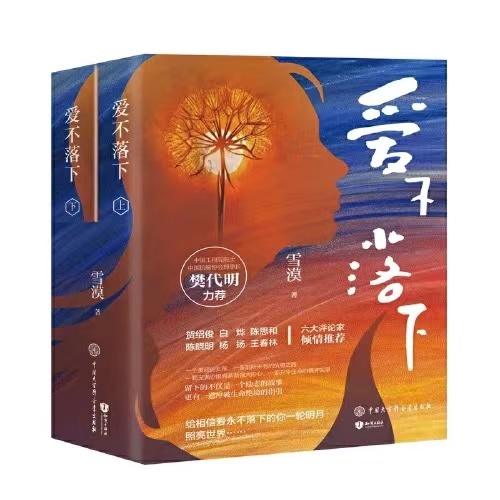 Eternal Love is an epistolary novel by Xuemo based on true stories. The book's heroine, a woman diagnosed with tongue cancer, tells the story of her battle with the deadly disease through correspondence between her and her teacher and the diary she wrote.
In their mail, the heroine and her teacher communicated heart to heart and discussed extensively many topics related to the question of what it means to live. In this way, the heroine gained the courage to conquer the fear of death …
Behind its sometimes gloomy narration, the book embodies an uplifting, optimistic spirit. This spirit motivates us to become better people and to work for the welfare of all people and all life.
Based on the rural areas of western China, the works of Xue Mo have shown the history and present of the west and the western culture, creating images of such western local figures as farmers, hunters, camel herders, and folk soldiers, and further depicted their survival, soul, love, and belief.
With the effect of inquiring about human nature and seeking eternity, his works have been full of majestic and vivid artistic appeal and possess the power to wash and sublimate the inner soul.
Praised by several domestic media as " western novels in the true sense" and "invaluable works of art," some of the works have been published by some foreign publishing and distribution organizations.
The British Newspaper The Guardian once published the full text of Old Man Xinjiang in English and considered it one of the five best short stories in contemporary China.
A column of Xue Mo's novels has been opened in the 15th issue of "Chinese literature and Culture," an American English Magazine, with the comment that embracing the unique writing style full of great spirituality and imagination, the author Xue Mo has not only perfectly integrated life, reality, history, and faith, but also endowed unique spiritual strength and charm thoroughly in various time-space interweaved narratives.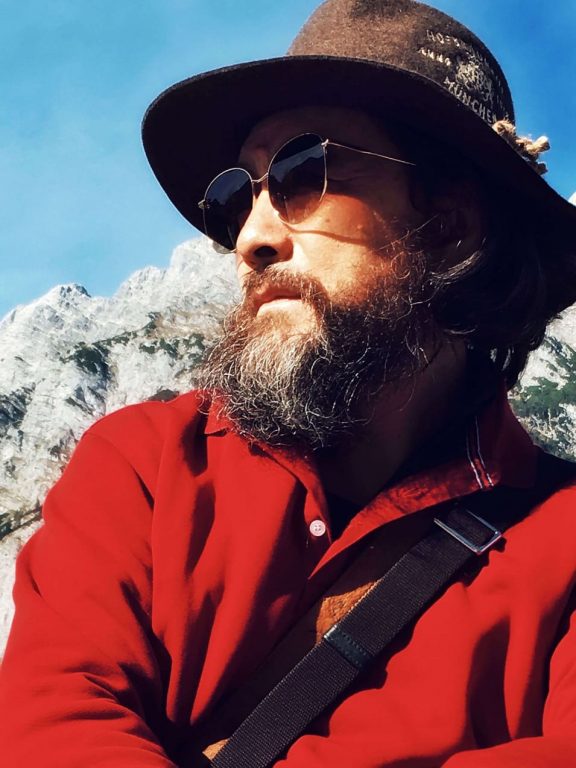 The rich and profound local Chinese background, the vivid and mysterious western Chinese culture, and the strong faith and affection in Xue Mo's works, as well as the unique thinking and exploration of such human issues as existence, human nature, soul, life, and eternity, have aroused the extensive attention of top translators and sinologists from all over the world.
Xue Mo has successfully established cooperation relations on translation with them, such as Howard Goldblatt of the United States, Nicky Harman of Britain, Carducci Lisa of Canada, Hans-Peter Kolb of Germany, Constantin Lupeanu of Romania, Liljana Arsovska of Mexico, Dinesh Kulatunga of Sri Lanka, etc.
So far, Xue Mo's works have been translated into more than 20 foreign languages, including English, German, French, Russian, Korean, Japanese, Italian, Nepali, Spanish, Arabic, etc. And as many as 35 translation versions of his works have been published by Bacopa Verlag Publishing Company, Wanzhi House of Sweden, Red Eagle Publishing House of Turkey, Arab Literature Center (ADAB), Neptune Publications, Nepal Book Hill Co., Ltd., Siglo XXI Publication House of Mexico.
The Ideea Europeana Publishing of Romania and, at the same time, more and more translations will be available to readers worldwide after being published by numerous influential publishing houses in succession.
In recent years, Xue Mo has been committed to cultural and educational exchanges and cooperation between China and foreign countries. He ever attended the Sino-French Cultural Forum with a speech entitled literature and Spirituality at the French Institute (L'Institut de France). He successively visited more than 20 countries and regions, including North America, Europe, and South Asia.
In 2019, Xue Mo held a dialogue with Wolfgang Kubin, a renowned sinologist from Germany, at Frankfurt Book Fair. The "Bookshelf for Xue Mo's Works" has also entered the United States, Canada, Italy, Hungary, Nepal, and other countries in succession, promoting the expansion of the popularity of Xue Mo overseas.