Li Qiang, born in July 1959, is the 8th premiere of the People's Republic of China in March 2023.
Li is the second highest ranking position within the Chinese Community Party (CCP) Sanding Committee member in October 2022.
Notably, from 2017 to 2022, Li held the pivotal role of party secretary for Shanghai City. During this time, he pursued pro-business policies and skillfully managed the response to the COVID-19 pandemic.
Li Qiang is an integral member of the "New Zhijiang Army," a significant party faction led by Xi Jinping, who has served as the party's general secretary and paramount leader since 2012.
The origins of their close relationship trace back to the mid-2000s when both leaders held key party positions within Zhejiang Province.
Respected observers commonly categorize Li as a pro-business figure, and his unwavering support for economic reforms has been widely acknowledged and appreciated.
Li Qiang's Early life and education
Born in Rui'an, Zhejiang, in July 1959, Li's early life and educational pursuits molded his journey towards leadership.
His initiation into the professional world commenced with his labor at the Irrigation Pump Station of Mayu District, Rui'an County, from 1976 to 1977.
Continuing his exploration of vocations, he further refined his skills at the Third Tool Factory of Rui'an from 1977 to 1978.
Li Qiang's quest for knowledge led him to the Ningbo Branch of Zhejiang Wanli University, where he aimed to broaden his understanding.
There, he specialized in agricultural mechanization between 1978 and 1982, following the resumption of Gaokao.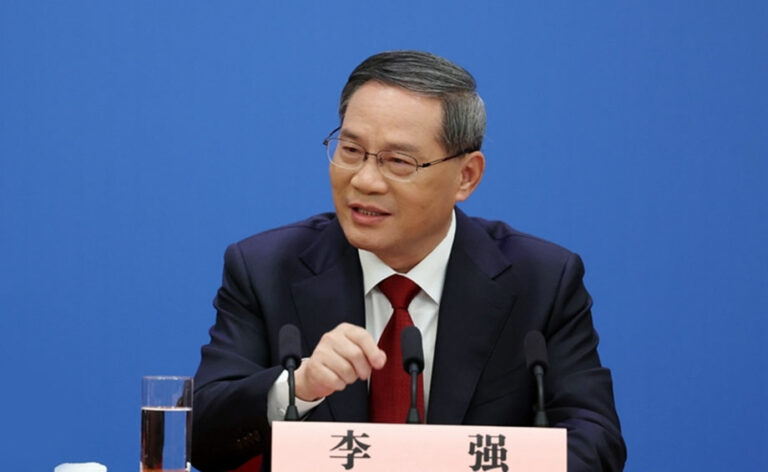 Expanding his educational horizons, he delved into sociology through correspondence at the private China Sociology Correspondence University in Beijing from 1985 to 1987.
His on-the-job graduate studies exemplified Li's commitment to continuous learning. He attended Zhejiang University from 1995 to 1997, focusing on management engineering.
Subsequently, he pursued on-the-job graduate studies in world economics at the Central Party School from 2001 to 2004. Recognizing the value of global perspectives,
Li broadened his knowledge at Hong Kong Polytechnic University from 2003 to 2005, acquiring an executive Master of Business Administration in 2005.
This comprehensive educational journey laid the foundation for his multifaceted leadership in the years to come.
Advancing from local to central levels in politics
Li Qiang's political journey unfolded across various levels, showcasing his dynamic leadership and strategic insight. From local to primary responsibilities, his trajectory illuminated his ability to drive change and make impactful contributions.
At the outset, Li began his political career by joining the Chinese Communist Party (CCP) in April 1983. He embarked on his leadership journey by assuming roles such as the secretary of the Communist Youth League of Rui'an County. From that point, he progressively ascended through the provincial civil affairs department ranks.
His remarkable progression led him to become the Communist Party secretary of Yongkang and, later, the party secretary of the prefecture-level city of Wenzhou. Notably, at 43, Li became the youngest party secretary in Wenzhou's history.
His path converged with Xi Jinping's during his tenure in Zhejiang. As the secretary-general of Zhejiang's Provincial Party Committee, Li earned a seat on the Standing Committee.
He was entrusted with administration and coordination, fostering a close bond with Xi Jinping, ultimately establishing him as a close ally.
His commitment to objective analysis led to forming a non-governmental group of experts that provided valuable insights into his performance.
Moving forward, Li's leadership made a significant impact on various provinces. As the acting governor of Zhejiang, he focused on open Internet policies, encouraging investments, and innovative approaches to urban planning.
Though short, his tenure as party secretary in Jiangsu showcased his efforts to promote business investments, exemplified by meetings with influential figures like Jack Ma.
Li Qiang's role in Shanghai was a defining chapter of his political journey. Appointed as party secretary in 2017, he oversaw the implementation of pro-business policies, including establishing the Shanghai Stock Exchange STAR Market.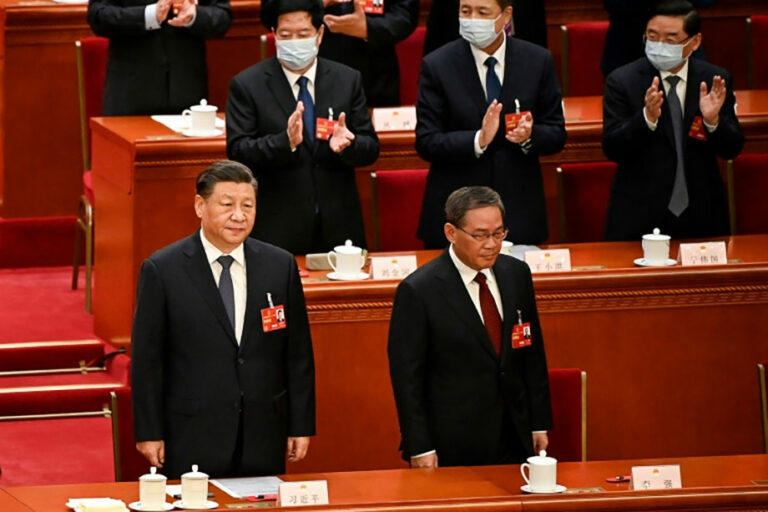 Under his guidance, Shanghai attracted foreign investments, including Tesla's Giga factory. Despite the challenges of the COVID-19 pandemic, Li exhibited adaptability, advocating for a balanced approach to managing the crisis.
He maintained a productive relationship with epidemiologist Zhang Wenhong, supporting the introduction of Western MRNA vaccines in China.
Li Qiang's dynamic leadership and adaptability were evident throughout his journey as he navigated challenges and drove progress across various regions and responsibilities.
His commitment to pro-business policies, innovative strategies, and collaborative approaches marked him as a leader of consequence, leaving a lasting impact on China's political and economic landscape.
Li Qiang Premiership
After the first plenary session of the 20th CCP Central Committee, Li's trajectory took a pivotal turn as he assumed a seat on the CCP Politburo Standing Committee.
Marking an unprecedented move, he became slated for the premiership in 2023, the first instance since 1976 of an individual rising directly from local government to premiership without any prior central government experience, particularly as vice premier.
Analysts noted his relative lack of Beijing experience, emphasizing his reliance on support from Xi Jinping to lead the State Council effectively.
On March 3, 2023, sources reported to Reuters that Li championed the swift relaxation of zero-COVID regulations in late 2022, resisting Xi's inclination to adopt a more gradual approach to reopening.
Li Qiang assumed leadership of the CCP's COVID taskforce and actively encouraged local governments to ease COVID-related restrictions progressively.
Assuming office as premier on March 11, Li succeeded Li Keqiang, thus becoming the first premier since Zhou Enlai without prior experience as vice premier.
Taking on the role of premier, Li embarked on initiatives to reassure private entrepreneurs, reinstating their confidence after they faced setbacks due to the effects of lifted zero-COVID restrictions in late 2022 and regulatory campaigns launched by the government.
Li's persuasive abilities were evident in his successful efforts to bring Alibaba Group founder Jack Ma back to China after a year spent abroad.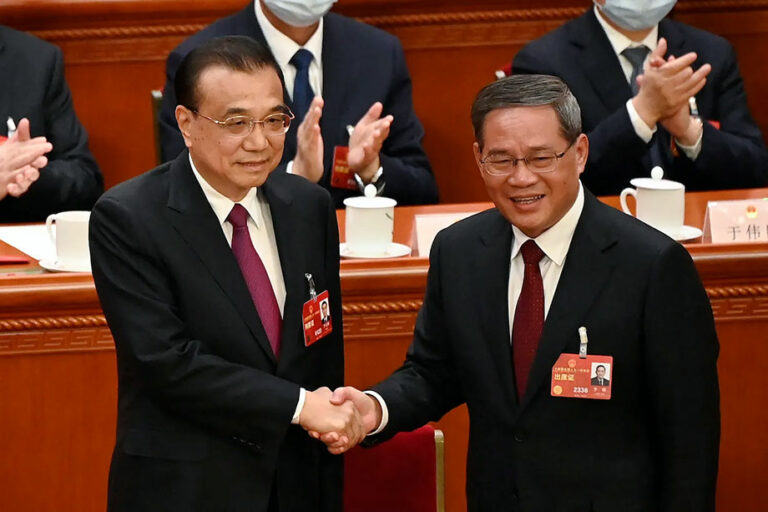 Li's international engagements were equally notable. He reaffirmed China's commitment to openness at the China Development Forum on March 27—his interactions with foreign business leaders, including Apple Inc. CEO Tim Cook and Bridgewater Associates' Ray Dalio marked a significant step forward in international relations, signaling China's ongoing journey toward global economic collaboration.
Li Qiang's swift ascent to the role of premier and his proactive engagement on both domestic and international fronts underscore his capacity to lead and shape China's direction.
His approach to fostering business confidence and advocating openness echoes his pro-business reputation.
At the same time, his involvement in pandemic response strategies reflects his adaptable leadership in the face of evolving challenges.
Li Qiang Diplomacy
In April 2023, Li Qiang initiated a meeting with Japanese Foreign Minister Yoshimasa Hayashi in Beijing to enhance bilateral ties.
In May, he initiated discussions with Russian Prime Minister Mikhail Mishustin, focusing on the "comprehensive strategic cooperative partnership between China and Russia in the new era."
Highlighting the progress, Li emphasized that bilateral trade between the two countries had surged by 40% in the past year.
On June 19, 2023, Li embarked on his inaugural overseas trip as premier, visiting Germany. During this visit, he met with President Frank-Walter Steinmeier, Chancellor Olaf Scholz, and CEOs of prominent German companies, including Mercedes-Benz, SAP, and Siemens Energy AG.
Continuing his international journey, he traveled to France on June 21 after his four-day stay in Germany.
During this visit, he discussed with French President Emmanuel Macron, Prime Minister Élisabeth Borne, and European Council President Charles Michel.
This sequence of diplomatic engagements highlighted Li's unwavering dedication to nurturing international relationships and promoting global collaboration.
Li Qiang Economy and business
Observers perceive Li as a pro-business advocate who champions economic reforms and fosters the growth of the private and service sectors.
The Economist notes that one of his favored themes is the reduction of bureaucratic interference in the market.
During his tenure in Wenzhou in 2003, he asserted that "the private economy is indispensable; without it, Wenzhou's urban development would regress by at least a century."
2014 Li Qiang said, "There should be more Alibaba and Jack Mas." I said in 2015 that economic reforms were a matter of "life and death" and that "the government cannot be an unlimited government."
He also said, "To build a limited yet effective modern government, you must transfer managerial power to social organizations."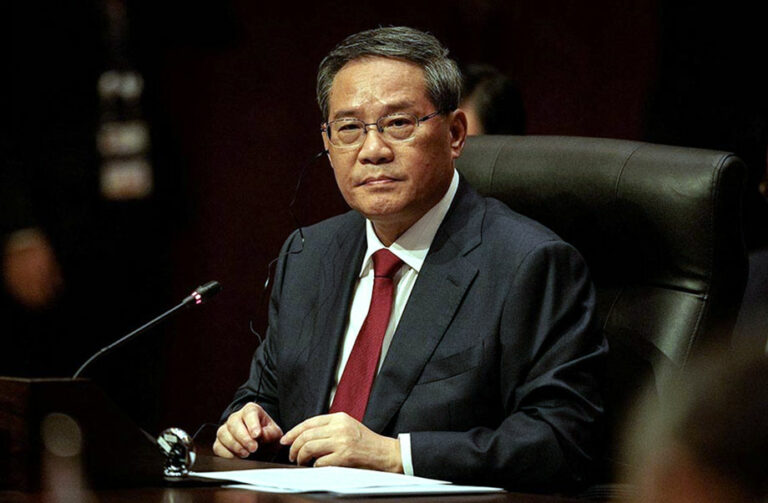 The Wall Street Journal reports that Li maintains close connections with Jack Ma.
The newspaper also reported that Li suggested that the government ease its regulatory actions against businesses and mediate between companies and the government during the government's crackdown on private companies.
Li has also supported information technology and artificial intelligence innovation, calling for more focus on the "real economy."
Li Qiang's Personal Life
Li Qiang underscored his local identity in an uncommon stance within senior Chinese politics, specifically his deep connections with Wenzhou.
He established the World Wenzhounese Conference, aimed at encouraging global members of the Wenzhounese diaspora to reinvest in the city.
Addressing the conference in 2013, he proclaimed, "I am a true Wenzhounese, born and raised," adding that the "Wenzhounese spirit of daring to pioneer and the resilience of strong entrepreneurship has always inspired and nurtured me."
Li Qiang's family includes his wife, a retired civil servant who previously served in the transportation bureau of the Zhejiang provincial government. The couple is parents to a daughter who pursued her education in Australia.