KP Oli, famous name KP Sharma Oli is a former Prime Minister of Nepal and the president of the Communist Party of Nepal (UML).
He is known as a nationalist leader who strengthened the Nepal-China relationship and stood against India during the 2015 blockade.
He printed an updated Nepali map that included disputed parts of Nepal, which increased his popularity as a bold, nationalist leader.
KP Oli Childhood
KP Oli was born on February 23, 1952, in Terhathum District, Eastern Nepal.
He grew up with his grandmother after losing his mother to smallpox when he was one and a half years old.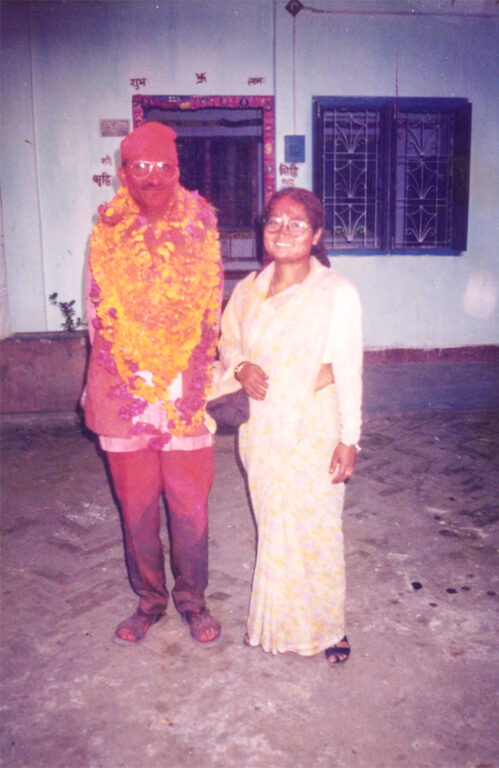 Oli's childhood name was Dhruba, which was changed to KP Oli when he started school.
He was an intelligent child who enjoyed playing chess and football. He also had a fondness for reading and writing nationalistic poems.
When KP Sharma Oli was twelve, his parents moved from Tehrathum to Jhapa to support Communist leader Ramnath Dahal.
They settled near the Kakai River, but one day their home and farmland were destroyed by a flood, causing further hardship for the family.
Oli began working for Ram Nath Dahal at home to make ends meet.
KP Oli Strogle, from Party Member to party president
KP Oli joined the Communist Party of Nepal (CPN) in 1966 after being influenced by the communist leader Ramnath Dahal.
He became a full-time political activist in 1968, and authorities jailed him in 1970 for his involvement in the democratic movement.
After being released in 1987, Oli joined the Central Committee of CPN (ML) and became the founding president of the Democratic National Youth Federation, Nepal (DNYF), in 1990.
In 1991, the Communist Party of Nepal (Marxist Leninist) and the Communist Party of Nepal (Leninist) merged to form the Communist Party of Nepal (Unified Marxist Leninist), and Oli became a founding Central Committee member.
Following the death of Madan Kumar Bhandari in 1993, Oli led the investigation committee of the Dasdhunga accident for the CPN (UML).
In 1995, he was appointed Chief of the Department of Parliamentary Affairs of the CPN (UML). He became a Standing Committee Member and Chief of the Central Department of International Affairs 1998.
In 2014, Oli defeated Jhala Nath Khanal to become the leader of the parliamentary party in the Constituent Assembly and Legislature Parliament.
He contested for party presidency during the 9th National Congress of CPN (UML) in 2014 but lost to Madhav Kumar Nepal.
MPA to the Prime Minister of Nepal
After thirty years of governance under the Panchayat system, which suppressed freedom of speech, all political parties joined forces with the Democratic movement to oppose the plan in 1991.
On April 19, 1991, the late King Birendra announced a multiparty Democracy with a constitutional king, and Nepali citizens reestablished the Democratic strategy in the country.
KP Sharma Oli won a seat in Nepal's Lower House of Parliament from Jhapa-6, but the Nepali Congress party won the majority in the first parliamentary election after the Panchayat system.
In 1993, a tragic jeep accident claimed the lives of Madan Kumar Bhandari and Jib Raj Ashret, sparking a movement to find the culprit and causing inter-party disputes.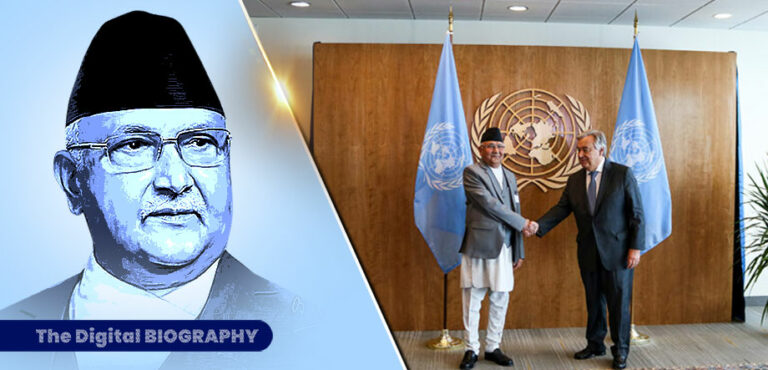 As a result, a Mid-Term Parliamentary Election was announced in 1994, which saw CPN (UML) become the largest party and Oli re-elected from Jhapa-2.
After Man Mohan Adhikari became the first communist prime minister of Nepal, Oli became as home affairs minister for the first time in 1994.
The first communist government was popular and served for nine months after the panchayat system.
In the 1999 parliamentary elections, Mr. Oli was elected thirdly as a Lower House of Parliament member from Jhapa-6.
He became deputy leader of the opposition party in Parliament from 1999 to 2002.
Nepal faced a ten-year civil war from 1996 to 2006, which ended with a comprehensive peace agreement between the government and Maoist party in November 2006.
From April 2006 to March 2007, Mr. Oli served as Deputy Prime Minister and Minister for Foreign Affairs of Nepal in the interim government, which Prime Minister Girija Prasad Koirala led.
During the first election of the constitutional assembly in 2008, Nepal declared a Federal Republic state and gave ministerial positions to Maoist party leaders. Mr. Oli, along with other famous leaders, lost the election.
In November 2013, Mr. Oli won as a member of the Constituent Assembly from Jhapa during the 2nd Constituent Assembly election.
However, his term was during a tough time in Nepal due to the massive earthquake in April 2015 and an undeclared blockade imposed by India on September 23, 2015.
The blockade affected Nepal's economy and caused great difficulty importing petroleum, medicines, and earthquake relief materials.
Prime Minister Oli requested India's help, but they did not listen. So, Nepal made good relations with northern neighbor China and agreed to purchase petroleum there.
Oli criticized the Indian government in public and in Parliament, causing protests by Non-resident Nepalis from Washington DC to London.
By March 2016, fuel shipments and goods from India were regular, and Oli became a popular nationalist leader. However, his party began a conspiracy to oust him.
Knowing this, he resigned as prime minister in July 2016. Nepal held local elections in 2017 after 20 years, and CPN (UML) secured most of the essential municipalities despite opposition.
Nepal Communist Party (Maoist) and Nepali Congress formed alliances at different levels but did not receive the expected votes.
CPN (UML) was strong in mountain and hill regions but weak in the Terai region. Party leader Oli allied with the CPN (Maoist) to form a majority government.
They won the federal and provincial elections held in two phases on November 26 and December 7, 2017. The election led to selecting 275 members for the Lower House of the Federal Parliament of Nepal.
According to the final result of the Election Commission, Oli became the 41st Prime Minister of Nepal on February 15, 2018, under Article 76 (2) of the existing Constitution.
Xi Jingping Visit to Nepal
The visit of Chinese President Xi Jinping to Nepal on October 12-13, 2019 was a momentous occasion for the country, as the last Chinese president to visit Nepal was Jiang Zemin in 1996, and no premier or foreign minister had seen since then.
President Xi held delegation-level talks during the visit with Nepali Prime Minister KP Sharma Oli at Hotel Soaltee.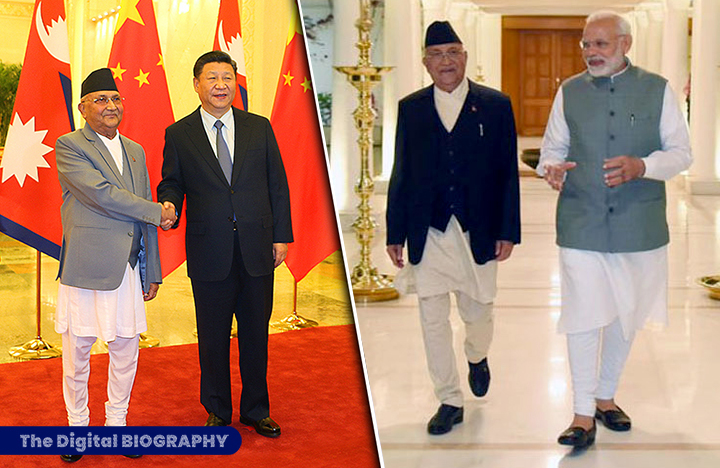 In the presence of the two leaders, officials from both countries signed 18 memorandums of understanding and two letters of intent.
One of the significant MoUs was the Feasibility Study of the China-Nepal Cross-Border Railway Project, a long-awaited project for Nepal.
During his election campaign, Mr. Oli promised to connect Chinese high-speed rail to Nepal.
KP Oli became "Baa."
Nirudevi Pal, a central committee member of CPN (UML), addressed Oli as "Baa" in parliamentary sessions, which then became viral.
Mahesh Basnet, a youth leader and Minister of Industry, referred to Oli as "Baa" publicly, citing his fatherly care. As the founding president of the Democratic National Youth Federation, Nepal (DNYF), Oli provided political guidance and mentorship to Pal and Basnet, who grew up within the organization.
While there was an objection to calling Oli "Baa" in the CPN (UML) central committee meeting, Oli defended himself, saying he behaves like a father to his colleagues.
His fatherly nature and quick response in times of need earned him the nickname among youth organizations and some party leaders.
KP Oli married Radhika.
During the Panchayat rule, KP Oli met Radhika Shakya, a fellow member of the Communist Party. Party leaders coordinated their meetings.
During their first meeting, Oli shared his health condition and the risks associated with his underground activities. Radhika was impressed by Oli's honesty and agreed to marry him.
The Underground Communist Party organized a marriage ceremony with around 20 members. Later, Radhika's parents gave their blessings to the couple.
Radhika, who had a Master's degree in history and economics, was a job holder in Nepal Rastra Bank, and after their marriage, Oli's personal life moved quickly.
People want to know about KP Oli on Google.
KP Oli website
His website is https://kpsharmaoli.com.np.
KP Oli's contact number
These are the direct contact number of KP Sharma Oli +9779851131522, +9779851131523
KP Oli father
KP Oli's father is Mohan Prasad Oli, born on February 22, 1952, in Aathrai, Tehrathum.
He was the eldest child of Mohan Prasad and Madhumaya Oli and was born into a Brahmin family of farmers.
KP Oli wife
Oli met his wife Radhika Shakya, a fellow communist, after his release from prison. They first met during party activities and later got married. Radhika Shakya is now Oli's wife.